Location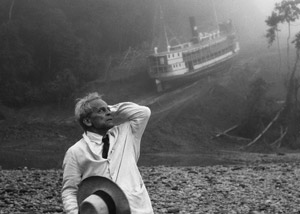 The sixth seminar will be held on Friday through Monday, March 18-21, 2016. Location: A conference room of a hotel in Munich, Germany.
For those admitted who wish to stay at the hotel, we will have a reduced hotel rate around $100/night.
Duration
The seminar will begin on Friday, March 18, 2016 at 6 pm with your accreditation, Meet & Greet, and a basic layout of the focus of the 3-day weekend. March 19-21(Sat/Sun/Mon), the seminar will begin at 9 am and end at 6 pm, with short breaks every 90 minutes. There will be a one-hour lunch break at 1 pm.
Ground rules
No sound or video recordings are permitted. No laptops. No cell phones.
Cost
Non-refundable US $25 application fee - payable upon completion of the Application Form. Please note, your application and payment of US $25 do not automatically grant you admission to the Rogue Film School seminar. Each application is being personally reviewed by Werner Herzog before an applicant is accepted. Applications for this seminar are no longer being accepted.
US $1500 seminar fee - payable upon applicant's approval by Werner Herzog as a candidate to the Rogue Film School. Cancellations due to hardships or extenuating circumstances possible until 10 days prior to the date of the seminar. A cancellation fee of US $200 applies.